Zingtree has powerful built-in analytics capabilities. In this series, we're taking a closer look at some of these in-depth reports and how they help you learn even more about how customers are using your trees. 
---
Session List Reports
This Zingtree report allows you to quickly and easily see every session for any given decision tree in your organization. Broken down in an easy-to-absorb list, you can navigate to each specific end-user session to learn more about how people use your tree, as well as get an overview of the amount of time users spent.
To access the Session List report, go to Overview > Reports and select Session List from the dropdown menu. You can specify an exact date range to pull the results from before clicking "Show Report."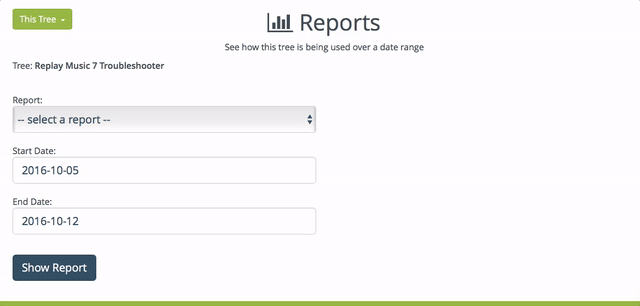 Once the report has generated, you can filter by Source/Agent to be shown sessions specific to an agent or other source. The Session List will give you a complete overview of every session within your filtered view, showing duration, clicks, results, and score when applicable.
The icons in your Results column will show you the exact end-result of each session: Customer was given a solution, Inconclusive, or Customer was unable to solve the problem.
Clicking on a specific Session # in the far left column will allow you to see complete click-by-click details for every node visited, as well as all data collected from that session.
---
Learn more about our powerful reports and analytics: