Update October 2018: See this article for an even better way to integrate Freshdesk and Zingtree.
Freshdesk is one of our most popular integrations, so we've made sure it's easy to import Zingtree session transcripts into a Freshdesk ticket. With the integration in place, support staff can see all of the steps a customer went through in a decision tree before needing to ask for help – it's a huge time-saver for agents!
When the integration is set up, agents will see a Zingtree transcript with each ticket, like this: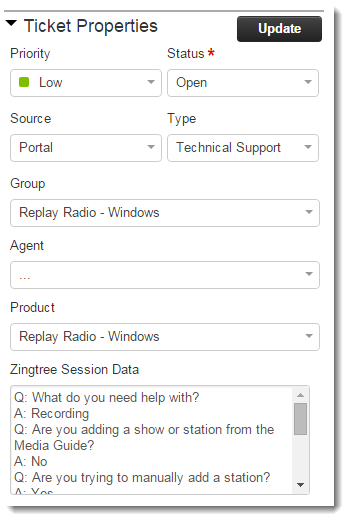 Requirements:
You will need the Estate or Forest plan from Freshdesk to accomplish this integration.
Overview:
You'll first need Freshdesk Admin privileges to complete the process. This method will create a new field called Zingtree Session Data; it gets hidden from the customer, but it appears for the agent answering the ticket. It includes the entire Q&A transcript of the user's Zingtree session prior to opening a new ticket in Freshdesk.
Here's how to set up the Freshdesk side:
In Freshdesk, go to your Admin panel, and select Ticket Fields.
Create a new "Multi Line Text"  ticket field named Zingtree Session Data. (This field must be set up as "display to customer" and "customer can edit", but will be hidden from the end-user once you implement step #7 below. Trust us!) The properties will look like this:
Click Done.
Click Save to add the field.
Next go to Admin, Portals, and click  Customize Portal next to the portal that will receive Zingtree data.
Go to Layout and Pages, Portal Pages.
Click New Ticket, then add this code to the new ticket edit area:

<script src="//zingtree.com/api/freshdesk-new-ticket.js"></script>

This is what it looks like (new code outlined in red):

Click Save and Publish.
On the Zingtree side:
You need to make Link Nodes that go to your Freshdesk New Ticket form, and add this to the end of the URL:
?session_id=#session# 
Example:
If this is the link to your ticket form:
https://support.mycompany.com/support/tickets/new
Use this URL within a Zingtree Link Node to go to the ticket form, and have the Zingtree session transcript transferred:
https://support.mycompany.com/support/tickets/new?session_id=#session#
We've set up a sample Gallery tree ("Freshdesk Integration example") for you to examine here. You can copy this tree, and then change the URL link to point to your own Freshdesk domain.
Follow these steps and in 15 minutes or less you'll have a powerful integration between Freshdesk and your Zingtrees.
Any questions? Reach out to us anytime.