This latest Zingtree update is more comprehensive than most, primarily because we took some time to focus on our core decision tree building features and make them even better. You'll see big improvements in Visual Designer, as well as managing Data Entry fields and editing nodes.
Visual Designer
The big change is that we've moved to a more powerful pop-up editor within Designer, and eliminated editing from the right panel. You now have a larger drawing area, and can do almost all of your work directly in Designer without having to go to Overview.
Designer also has "isolated" view – just click on a node, and you'll see just the nodes and buttons connected to it. Additionally, you can print and export your tree drawings to PNG image files. And, Designer now loads 2x to 3x faster!
Important: To edit a node in Designer, you'll need to double-click or right-click.
Here's what some of the new changes look like:
Larger Drawing Area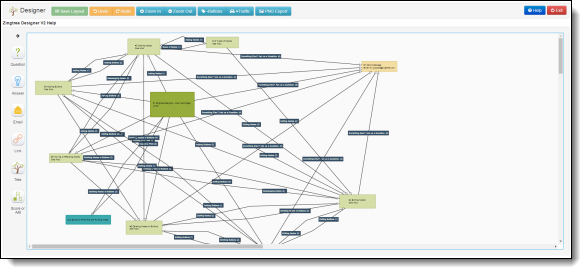 Pop-Up Editor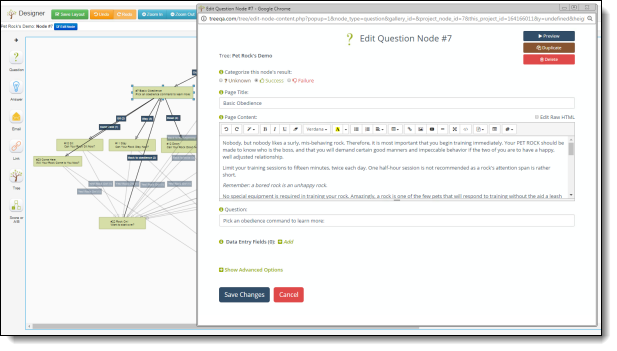 Isolated View
Click on any node or button/arrow to highlight connections.
Other Designer updates:
Designer boxes resize to fit longer content when loading tree.
Designer with two buttons going to same place now has larger separation of arrow connectors.
Fix: Apostrophes in titles or questions now display properly.
Data Entry Fields
Also new is an improved way to manage data entry fields. Rather than inserting code into the content area, you can now manage data entry fields separately, which makes it easier for non-programmers to edit, add and change data fields.
Within the node editor (from Overview or Designer), you can add any number of data entry fields from a simple, easy-to-use form.
Complete instructions on how to use Data Entry Fields is in the Zingtree FAQ here.
Other Enhancements
Several other improvements and fixes are in this update, including:
Update: Tree node search now includes tags in search (h/t Trey H.)
Update: Simplified Edit Node.
Update: "Hide from Agent Portal" no longer defaulted when creating a new tree. Also gives hint to check this if no trees found in Agent portal.
Update: Copy Node on node editors, no more "Save and Create Duplicate"
New: Can now edit two trees at the same time through Designer, or keep two tabs open for different trees.
Fix: Edit Tree Node now shows links to all trees in your organization.
Fix: Traffic Map report now shows tree node links. (h/t Ben C.)
Fix: email-session-info.php will now substitute #source# or #agent# in the link (link node fix) (h/t Craig)
Update: Simple overview only shows scoring variable if scoring is being used.
Update: Preview now substitutes #agent_name# for author name. (h/t Marlin)
Update: Email nodes now insert body of message into "Notes" form field, which can be viewed and exported from the Form Data report (for Holly B.)
Fix: Search results linking to a tree node no longer fail (Chrissie)
New: Can delete multiple nodes easily from Simple Overview (for Ben C.)
Fix: Last Opened in My Trees page is adjusted for the user's time zone (h/t Elijah H.)
New: Button Clicks report has a View All option to see all nodes on one page (h/t Mike H.)
Fix: apostrophe's in page title no longer messes up #taglist# link tracking (Chrissie)
Thanks again to everyone who suggested updates! I'm sure we may have forgotten a few of you.
As always, if you have a suggestion to make Zingtree work better for you, please share.